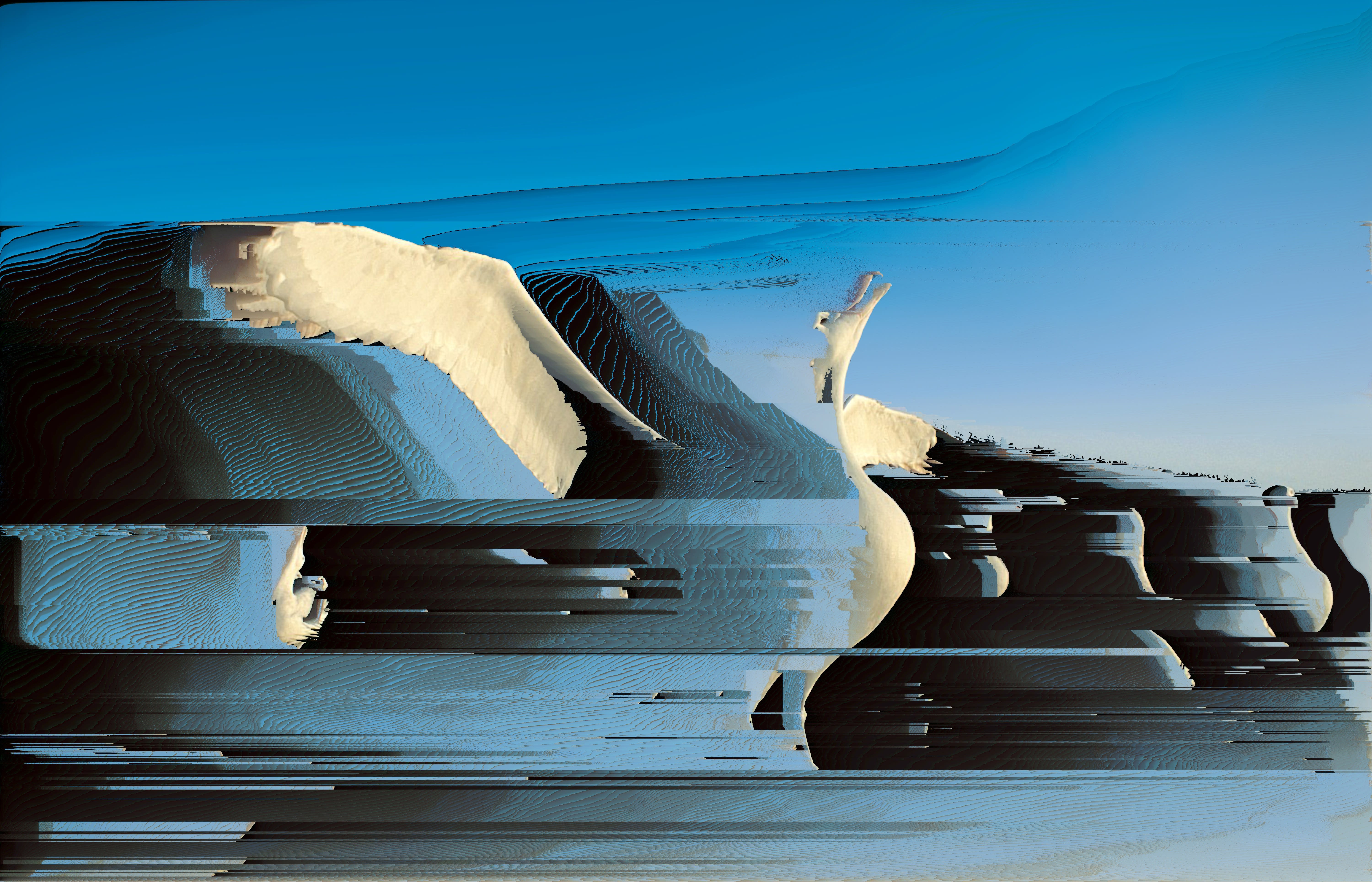 Albatross Glitch
Archival inkjet
2020
Willem Dafoe Reading No. 5 "I Shot The Albatross"
And a good south wind sprung up behind;
The Albatross did follow,
And every day, for food or play,
Came to the mariner's hollo!
In mist or cloud, on mast or shroud,
It perched for vespers nine;
Whiles all the night, through fog-smoke white,
Glimmered the white Moon-shine.'
'God save thee, ancient Mariner!
From the fiends, that plague thee thus!-
Why look'st thou so?'-With my cross-bow
I shot the ALBATROSS.
The Rime of the Ancient Mariner is a founding fable of our modern age. We are the wedding guests, and the albatross around the Mariner's neck is an emblem of human despair and our abuse of the natural world. Yet in its beautiful terror there lies a wondrous solution - that we might wake up and find ourselves saved. Art knows no boundaries. The Ancient Mariner Big Read is an inclusive, immersive work of audio and visual art from the 21st century that reflects the sweeping majesty and abiding influence of Samuel Taylor Coleridge's 18th century epic poem.
First published in 1798 - we use Coleridge's revised version of 1817 - but still vitally relevant today, it is no coincidence, perhaps, that this poem is the first great work of English literature to speak to isolation and loneliness - and the possibility of redemption if we mend our ways. Three years in the making, drawing on the talents of actors, artists, performers, poets, and writers, The Ancient Mariner Big Read is a brand-new digital work of art in its own right - a wild and tempestuous voyage into the unknown.
The Rime of the Ancient Mariner is the longest major poem by the English poet Samuel Taylor Coleridge, written in 1797-98. Who shot the Albatross ? It is considered bad luck to harm a seabird, they harbor the souls of mariners lost to the sea. 19 of the world's 22 species of albatross are now threatened with extinction due to commercial fishing and plastic.
Albatrosses are the largest flying birds, with wingspans of up to three metres. Wisdom, a female Laysan albatross on the Midway Atoll in the Pacific, is the oldest known wild bird, still laying eggs at 70 years old. Albatrosses remain loyal to their mates all their lives.
Check out the full series
here
.
Happy Earth Day.
April 23, 2020